Can You See the Finish Line? Final weeks, challenge ends on March 31!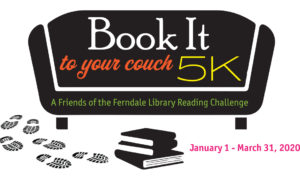 It started on Jan 1 to compete with your friends, family, and the community to complete a Library Reading 5K (yup, that's 5,000 pages folks). Download a reading log here. Ebooks, Audiobooks, and regular ol' paper books all apply. Hurry! The contest ends March 31! Our final Check In is still being planned so keep an eye out on Our Facebook Page for details soon.
Submit your completed form(s) to ferndalefriends.org@gmail.com or the library circulation desk by April 3, 2020 for the chance at a prize!
Questions?
Email the Friends at: ferndalefriends.org@gmail.com
We are making Ferndale an even better place to live by building a local community organization to support our library's mission to serve those who live and work in Ferndale by providing the best possible information and entertainment, arts and culture.
We invite you to join us!